Ice Cream Truck Catering
We all remember the neighborhood ice cream truck growing up, but did you know that we are now available for that event that you're planning? When one of our ice cream trucks makes a special appearance, it always becomes the hit of the party. From schools to nursing homes, our ice cream trucks are enjoyed by people of all ages. Our ice cream trucks are available throughout Cleveland, Akron, Northeast Ohio, and Columbus to serve your event. Some of the more typical occasions we cater include:
Company picnics
Employee appreciation
Day camps
Day care
Schools – public and private
Birthdays
Graduation parties
Family Reunions
Sporting events
Weddings
Community events
Bar/Bat Mitzvahs
Business promotions
Block Parties
Our pricing works as follows:
Your cost is based on a tally of the ice cream consumed or a minimum charge. The minimum charge is $140 for the first half hour we are on site, $60 for each additional half hour. There is also a small travel charge based on our travel distance.   Please keep in mind that these minimums include an ice cream tab for that amount of ice cream.  We also run birthday party specials starting at $99, call to inquire.
Ice cream cart rental
If your event moves indoors or a truck just isn't the best solution, one of our clean, user-friendly carts may make sense. The operation of our carts is simple. Just plug it in for 8 hours, and the cold plates will keep all of the ice cream frozen for a full 12 hours, even if it's unplugged! This is a perfect solution for indoor events, parking garages, low clearance, or any location a truck can't access. A cart is also a great option for fundraisers or if you need to serve treats all day.
Our cart rental pricing is as follows:
$190 for 1 day       $249 for 2 days       $399 for a week

15 dozen wholesale ice cream novelty ice cream purchase required
Price includes local delivery and umbrella
20% added to rental charge if no ice cream purchased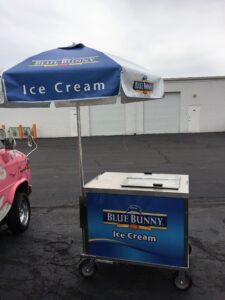 Marketing & Promotions
Our ice cream trucks can be rented out for short or long-term marketing or promotional events. You can even customize the truck with your own graphics on either signs or a full body wrap. We are also available for-hire to serve ice cream to customers and referral networks. 
Fundraising
Looking to raise money for your organization or cause? We may be able to help! Ice cream is in high demand by people of all ages so it is the perfect fundraising solution. So, if you're expecting a large crowd, we can help turn that into cash for your cause. With our 20 years of experience, we have the know-how to maximize your fundraising efforts.
Here are a few ideas to get you thinking:
Have our truck at your event; we'll donate a portion of the proceeds, on the spot!
Rent a truck for a day; earn a larger portion.
Rent a fully stocked cart and conduct your own sales.
Have your own freezer? All menu items are available at wholesale prices.
Wholesale ice cream available by the case!
We have all of your favorite ice cream treats from when you were a kid. Go ahead and browse our menu page, pick out your favorites and give us a call.  Have your own truck or store? Call us for competitive pricing.
Contact us today to schedule an ice cream truck or cart. We are proud to serve clients in Cleveland, Akron, and Columbus, as well as the surrounding communities in Northeast Ohio.